Image: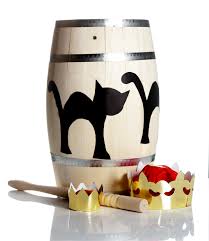 Body:
My Mother told me a story about "Fastelaun" not long ago.   It was held the same day of The Chinese New Year.  It went something like this:

-FasteLaun- On this day the Children dress up first thing in the morning and head to the parents' bedroom to wake them up by using special tree branches arranged the night before and lay outside the childrens door.  The smart parents loaded up the branches with treats so the Children don't smash them too badly when waking the Parents with the branches. A song is sung while the branches gently touched the parents with timing: "Ballen ap Ballen ned""Ballen i min mave""hain jej ingen Ballen jar""Sa laves jeg galade"
Fun stuff I tell you.